Who is online?
In total there is
1
user online :: 0 Registered, 0 Hidden and 1 Guest
None
Most users ever online was
48
on 19th December 2013, 5:10 am
Social bookmarking










Bookmark and share the address of THE HUNGER GAMES- Fan Forum on your social bookmarking website
Current date/time is 20th September 2019, 3:44 pm
THE HUNGER GAMES
Welcome to The Hunger Games Trilogy Forum, Guest! Here you can share your ideas with fans of Hunger Games! Discuss, Roleplay, chat, enter into the hunger games, "shop", share/watch videos and more! We have no birthdays today, our newest member is Jerlene Your last visit was As of today, this forum is 2804 days old :) Also, we have 37 members. The most users we've had online was 48 on 19th December 2013, 5:10 am Let's try to beat that by recruiting people!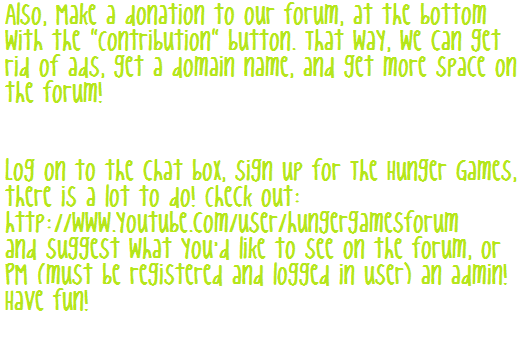 Districts

Topics
Posts

Last Posts
Who is online?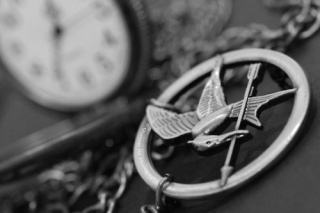 In total there is 1 user online :: 0 Registered, 0 Hidden and 1 Guest
Most users ever online was 48 on 19th December 2013, 5:10 am

Registered Users: None


No users have a birthday today
No users are having a birthday in the upcoming 3 days

Legend : [ President OR Head Peace Keeper ][ Peace Keepers ][ Escorts ][ Mentors ][ Tribute ][ District 1 ][ District 2 ][ District 3 ][ District 4 ][ District 5 ][ District 6 ][ District 7 ][ District 8 ][ District 9 ][ District 10 ][ District 11 ][ District 12 ][ Capitol ][ District 13 ]
Statistics
Our users have posted a total of 74 messages
We have 37 registered users
The newest registered user is Jerlene
New posts
No new posts
Forum is locked